Ready to submit your designs to BigiNagi? that's wonderful! Here are some design guidelines to keep in mind.
File Size
A low-quality design will always produce a low-quality print. Make sure your designs look great when you're creating them and avoid this problem! 
Generally speaking, digital artwork will always look sharper than a photo. If you have the choice, stick to digital vector artwork, rather than photos.
Targeting t-shirts, below are the common print sizes that you can aim for when preparing you designs.
Print Area – Front & Back
| | |
| --- | --- |
| |   |
| 4500 × 5700 | 4500 × 5700 |
4500 × 5700 pixels (the equivalent of 15" × 19" at 300 dpi) is the largest possible print size for DTG garments and is based on print pallet size used in the large DTG printers. Any artwork larger than the print area will be cut to size.
Print Area – L Sleeve, R Sleeve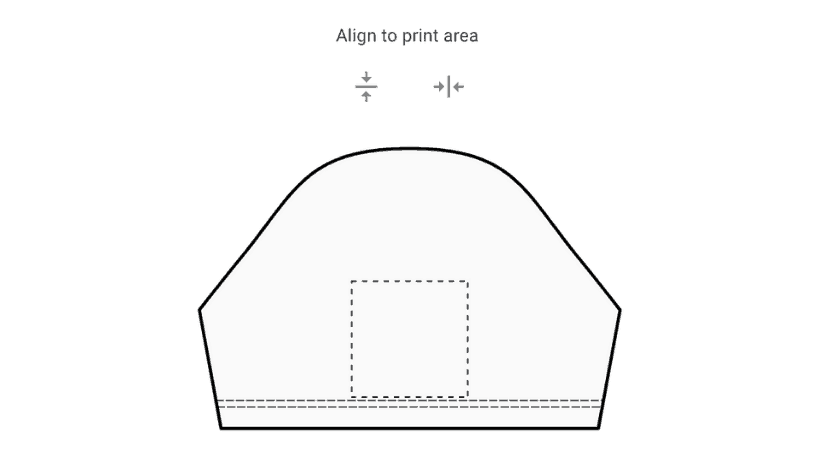 Pixels W × H
1283 × 1283
Print Area – Neck Label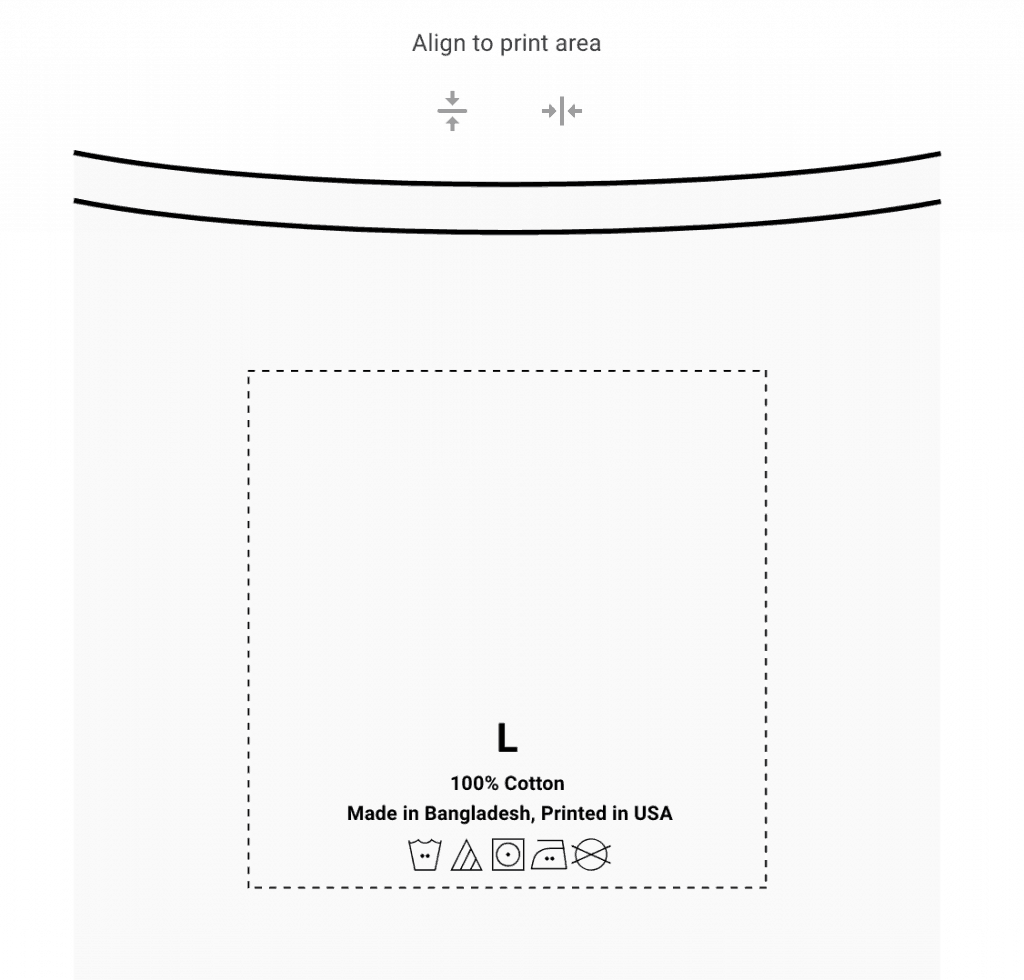 Pixels W × Hv
1062 × 1062
Photoshop and Illustrator
Here's the settings panels for starting a new file in Photoshop and Illustrator.
Adobe Illustrator
Adobe Photoshop
 Print Colours  
 The printing color range is more limited than what you will see on your computer screen. Vivid print colors won't typically come through, so be careful about making this a central part of your design or idea.
We accept files with various color spaces, but our system does all operations in RGB. If you upload a CMYK file, be aware that our system will convert it to RGB and the colors might shift significantly.
The red area is the approximate safe color range.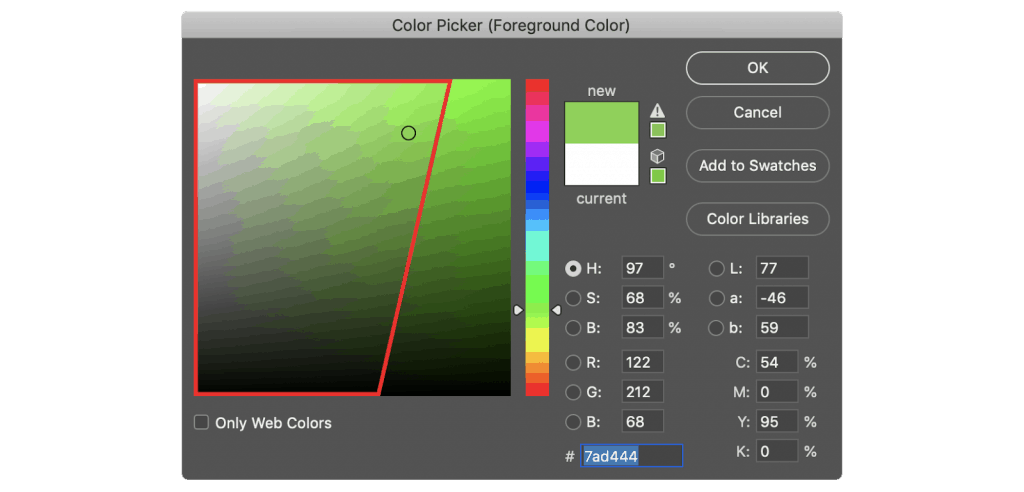 If you go outside that area, please be aware that the print colors you see on your screen will not match the final printed product. If you want to know specific safe color values, please see this
216 safe, non-dithering colors
list.
A computer's colors (RGB):
Computers don't interpret the entire range of 'visible' light. While this is theoretically possible, certain technological limitations prohibit a computer from having the same scope as the human eye. So, while a person might see a certain shade of color, a computer will have a slightly downgraded visualization of the same.

This can be explained by understanding that computers use an 'additive' system which combines red, green, and blue (RGB) together to form the desired print color. Even while the computer itself holds an inferior version, the perfect print colors are still emitted from the screen in the shade our eyes are familiar with.

RGB vs CMYK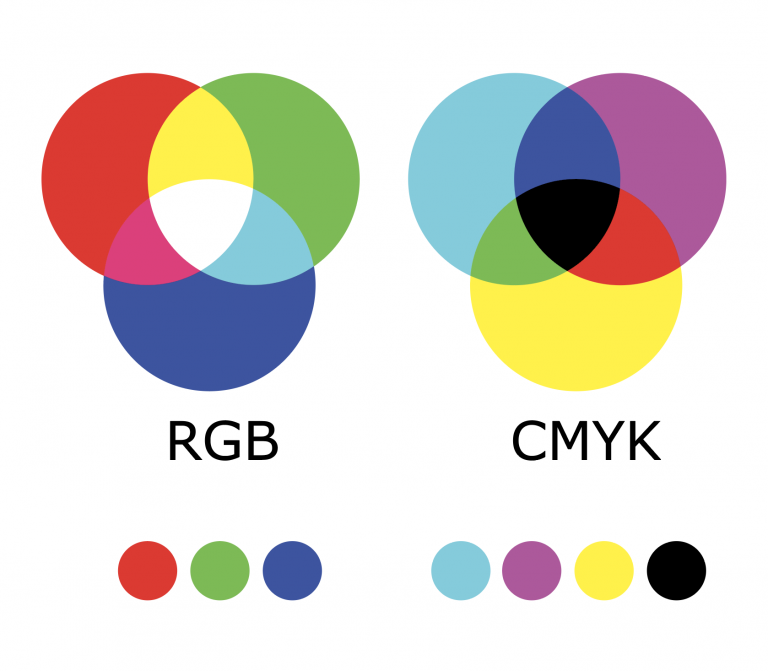 Print colors (CMYK):
When someone creates a design, or uploads a piece of artwork with various print colors, that picture is stored in computer software as RGB. However, that RGB format must be translated into CMYK before the design in question can be printed. This is because, instead of a screen projecting various print colors, the tints we perceive on a garment are only the reflected wavelengths of visible light.
If you have created your design in RGB, you can preview how your design might look printed if you convert it to CMYK. This will give you an approximate idea of the color shift. In the future, we will have this functionality built into our product generator, but for now, this is an easy way to check how the final result might look.